Outrage and then the suspension of Baijayant Panda, and what an inopportune time for the regime here, plus Kunduli rape victim, who killed herself, the issue sticking its neck out nearly triggering a political blitzkrieg, a situation where Naveen Patnaik is today perhaps, the most unenviable chief minister.
Panda`s suspension from the BJD was very very predictable a step from the day Patnaik appointed the two observers to investigate on the allegations made by the MP.
However, being within the party indulging in opinion- making unfriendly to the present dispensation would have otherwise had a bearing on the fate of the suspended MP. Anyone in his place would have met the same fate.
Moreover, Panda`s repeated tirades aimed at the leadership since long provided a willing suspension of disbelief that naturally culminates in what has happened.
There was nothing wrong with his statements but he could have drawn a line not to go beyond a certain boundary or he would have gained more accolades from his people had he left the party on those grounds much earlier. That would have earned him more political legitimacy than being fired after an alleged `orchestration` . Plus he could have foreclosed the dangers of arbitrariness that follows such happenings in politics.
If one chapter is closed then the other has opened. Kunduli rape victim suicide. It came as it did at a time when the political soundtrack in the BJD is in a way muffled.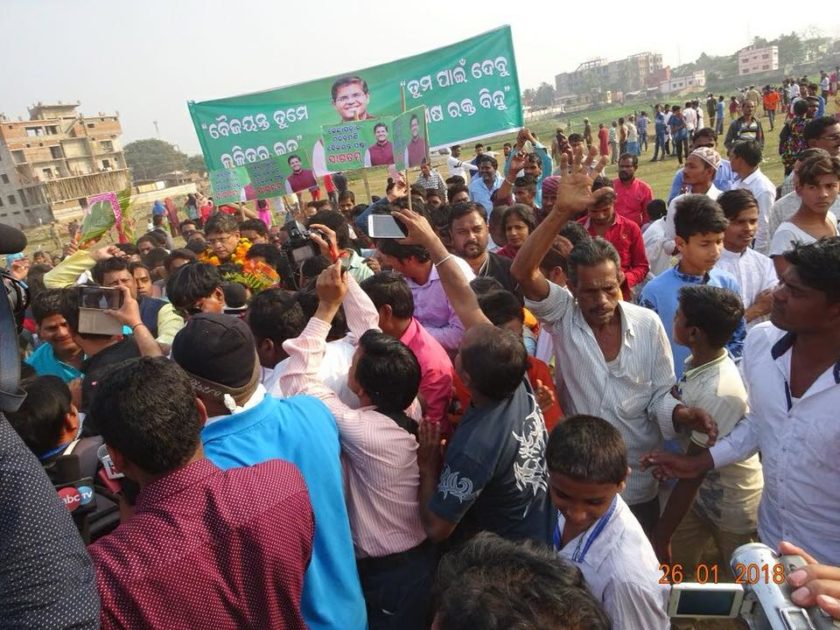 A combined opposition orchestrated an empathy wave for the Kunduli victim carrying her body etc and attacked the alleged siege mentality of the party in power. One can say if such an effort would have been made by the opposition while she was alive that would have helped her to fight the defeatist impulses within.
Shame on the system that allegedly tried to botch up the entire issue to paint it in ridiculously different colours. For which no amount of condolences can compensate for the lives lost.
Now more skeletons may tumble out, as already have, in the alleged manipulation of medical reports of the victim by the Crime branch. If true that might boomerang on the real perpetrators of the crime and the official agency who tried to obfuscate the evidences. And the political ramifications are anybody`s guess.
Panda into BJP !
For Baijayant Panda one does know what recourse he has in mind but the speculated entry into the BJP is in anyway not an easy option in view. Though notes of welcome from the saffron outfit is already sounded but in this field there are always preemptive charitable deception for which politics is known for.
In the BJP , the inner climate in the Odisha unit is not free of the inconceivable race of ambitions now spearheaded by one leader I.e Dharmendra Pradhan . Panda who has donned a sacramental cloak post his suspension has to learn how to walk under one canopy and he being a leader of polished and intense stature though with traits of flamboyance may find it hard to subjugate so easily.
D N Singh*
After suspending Kendrapada MP Baijayant Jay Panda from the party, the (BJD) has now accused the leader of lying in his election affidavit and thus demanded his resignation from the Lok Sabha. The BJD has claimed that Panda did not reveal that he was the vice-chairman of Indian Metals and Ferro Alloys Limited (IMFA), a mining company, in his election affidavit during 2014 elections.
The party has reportedly alleged that the Kendrapada MP was drawing salary from the company (IMFA) and has got annual salaries and allowances amounting to Rs 2 crore, Rs 79 lakh, Rs 1.45 crore, Rs 1.60 crore and Rs 7.66 crore as vice-chairman of IMFA in the last few years.
The Naveen Patnaik-led BJD has also attached documents and the election affidavit of Panda with the statement which read,"Shri Panda has lost all his moral authority to continue as Member of Parliament from Kendrapada. Hence we demand that Shri Panda, Vice-Chairman, IMFA, should immediately resign as MP from Kendrapara."
"He has cheated and misled the party, party leadership and above all the people of Kendrapara Parliamentary constituency about his employment with IMFA — a company involved in ferro alloys, mining and power," the statement added.
Panda, however, refuted the allegations and termed them baseless. He claimed that the party is well aware of his family background and association with the organisation. Speaking to reporters, Panda said,"The allegations against me are totally false and baseless. I always consult top lawyers of the country while submitting affidavit before the EC."
Disclosure
Disclaimer / Clarification/ Refutation of Allegations
Every few years, either during elections or when I advocate a cause that goes against some vested interests and steps on some toes, I get attacked (eg. when I successfully pushed for doing away with subsidies for the Parliament Canteen). Usually, these consist of recycled allegations that have been refuted many times before. Nevertheless, online trolls apart, there are many decent people who may not be aware of earlier refutations and thus legitimately have questions. For many years now, I have summarised the clarifications/refutations and put them up here on my website, to which all genuine questioners can be referred.
New Allegation (2017):
"Ajit Jogi / Chidambaram/ FIPB"
In August 2017, Ajit Jogi, the former CM of Chattisgarh, held a press conference in Delhi, making several allegations against P.Chidambaram, former Finance Minister, and his son Karti Chidambaram. One of those allegations included "getting undue favours from the erstwhile Foreign Investment Promotion Board (FIPB)" for Ortel Communications, one of the companies with which my family is connected. This is utterly false. The company had indeed received FIPB approvalsfor receiving foreign direct investments (FDI) from well-known global private equity funds in 1999 and 2008, and subsequently had an initial public offering (IPO). There were no favours involved of any kind since the company met all the RBI and FEMA guidelines for FDI andrequired no special permissions. Furthermore, the company has no connections whatsoever with either Mr P.Chidambaram or Karti Chidambaram.
Separately, Jogi alleged that Mr P.Chidambaram had appeared in court for another company with which my family has connections, IMFA, and that his wife owned shares in it. Indeed, Mr Chidambaram had appeared in the Supreme Court for that company in the 1980s and 1990s, but there is no other connection. Regarding Mrs Chidambaram owning shares, of the thousands of shareholders, it appears that one N. Chidambaram apparently does own only ten (10) shares in this publicly listed company in which anyone can buy shares. Mr Jogi, who is himself facing action for having forged his caste certificate, also recycled some old allegations, which have already been repeatedly clarified for many years (please see below).
Earlier / Old Allegations:
"Outstanding Bank Loans"
In the 1980s, one of two operating companies in the family businesses in which I inherited shares (along with several other relatives) became sick due to dispute / unavailability of raw materials. There was no malfeasance whatsoever, but due to non-availability of raw materials, the company (ICCL) operated far below capacity and also remained closed for long periods. Years later, in 1999 the Supreme Court ruled in its favour and it began operating again after a Corporate Debt Restructuring. The CDR was as per norms and involved partial debt write down (mostly penal interest, but not other components like forex fluctuation or principal). This was matched with shareholders agreeing to forfeit 50% of their shares, and also committing 85% of the earnings of another group company (IMFA) for the CDR rehabilitation package. Subsequently, the restructured debt was repaid and the two companies were merged.
"Electricity Dues Waiver"
One of the companies in the family business group mentioned above (IMFA) had a legal dispute with the state electricity board (later unbundled and partially privatised) in Odisha. The grounds that the billing was in contravention of the supply agreement as well as accounting principles was upheld unanimously by court-ordered arbitration, which in fact stipulated that the company receive a refund. However, inaccurate media coverage had caused many people to believe that there was some kind of 'waiver' of electricity dues, which was simply not the case.
Separately, in a dispute over electricity duty between the state govt and a large number of public and private sector companies, there is an ongoing litigation in the High Court. IMFA is one of these many companies, and has been depositing the disputed amount in court (instead of to govt) while the case is being adjudicated.
"13 Acres Land"
In 1980, one of the companies in the family business group (IMFA) acquired (and subsequently merged with itself) a loss making company, the erstwhile Kalinga Tubes Ltd. In the process, it acquired KTL's campus of nearly 300 acres (established in the 1950s) where it today has a manufacturing plant. In 1976 KTL had initiated legal proceedings (later IMFA automatically substituted it in the case) relating to the inaccurate recording of a small portion of land and this was adjudicated in favour of the company in 1990, so there is no doubt on the ownership of the land.
Conclusion
I trust this answers those who have genuine questions. The above facts are true, accurate, and can be verified. Nevertheless, I have experienced at times, even after clarifying/refuting allegations, efforts by some to draw me into further arguments, which I do not entertain.
Earlier on January 24, Odisha CM Naveen Patnaik had suspended Panda from primary membership of the party for indulging in "anti-party activities".
Senior BJP leaders in the State feel the suspension has come a bit early in the game as the elections are months away
Odisha Chief Minister Naveen Patnaik seems to have stolen a march on the BJP by suspending Kendrapara MP Baijayant "Jay" Panda from the Biju Janata Dal (BJD) much before what one party leader said was an almost definite "poaching raid" on its ranks closer to the elections in the State in 2019.
The suspension of Mr. Panda from the primary membership of the BJD on Monday triggered off speculation that he could be headed to the BJP, with which he enjoys a good relationship.
"As of now, the only thing I can say is that I will spend the next two or three days in my constituency. In Odisha, we believe deeply in Lord Jagannath, and I will be praying to him for guidance," Mr. Panda told The Hindu .
"Of course, I am upset with what has happened, but I cannot say anything more than that."
The mood in the BJP with regard to Mr. Panda was also uncertain for other reasons. While senior BJP leaders involved with party affairs in the State did not deny that Mr. Panda would be a good catch for them, the suspension has come a bit early in the game.
"You will have noticed, in other States too, [party hopping] happens closer to elections; this has happened a little early," said a senior office-bearer of the party.
'No talks happened'
"In U.P. and other States, we have never shied away from adding to our ranks from other parties and in Odisha too we will welcome those who want to join us, but no talks have happened between us and Jay Panda as of now," the party source added.
The BJP is looking to expand in Odisha and expects to make gains there, along with West Bengal and the north-eastern States, in the 2019 Lok Sabha elections.
The party has done well in the tribal areas of the State in the local body elections, but lacks popular support on the coast.
Union Petroleum Minister Dharmendra Pradhan is the most well-known face of the party from the State and has done well in delivering on the Ujjwala Yojana, Prime Minister Narendra Modi's pet social sector project of delivering cooking gas cylinder connections to below-poverty-line households on subsidised rates.
Mr. Panda, an articulate MP, has his own strengths and runs one of the largest local language television channels in the State.
Mr. Patnaik, having pre-empted a raid on his ranks, is hoping to use that time to defang the bitterness that is bound to follow Mr. Panda's exit.