GCS Conclave 2018 of Surana Educational institutions to recognize shining stars of Indian Education Sector, to debate "Empowering Innovations in Transformational Leadership" – EDUCATORS FOR EDUCATION" in Bengaluru on 28th April 2018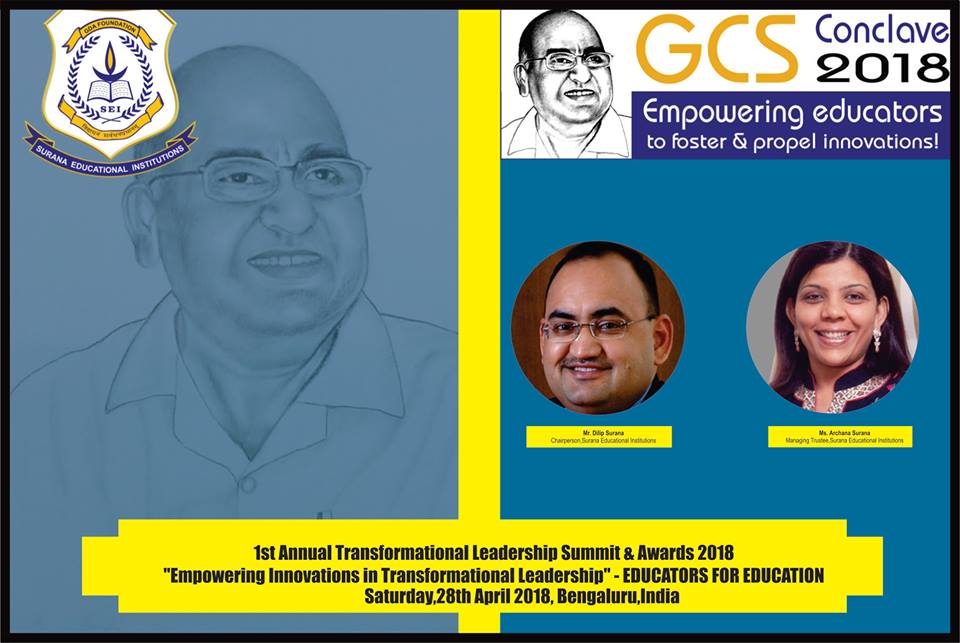 GCS Conclave 2018 of Surana Educational institutions to recognize shining stars of Indian Education Sector, to debate "Empowering Innovations in Transformational Leadership" – EDUCATORS FOR EDUCATION" in Bengaluru on 28th April 2018
The GCS Leadership Award is the highest recognition for individual achievement and is awarded annually. This award acknowledges and celebrates exemplary leadership that has a significant and positive impact on advancing the theory and practice of information technology in higher education.
The challenges faced by the quintessential graduate student in India, and what counter-measures exist at the moment. Almost 85% of those who had completed higher education were not equipped with enough information to take a career decision. Evidently, the lack of professional counseling and career-building services provided by a majority of Indian higher education institutions, as a possible reason for this gap. The objective of the summit is to empower the importance of a dynamic career development process, and why Indian educational institutes must invest in the same, citing the approaches adopted by their global counterparts. By valorizing the few good higher education institutions we have willfully averted confronting the reality of the over 740 universities and 40,000 colleges across the country. Undoubtedly, even in some of the not that best colleges, there are excellent and dedicated teachers and students toiling away. But the rot in this system is deep and wide. The causes are many and none of them are unknown.With this framework, it's a debut attempt of Surana Educational Institutions to gather the creamy crowd of educationists & other eminent personalities to churn out the essence of needy objectives in the said area.
The first Global Leadership Summit of Surana Educational Institutions will be held on 28th April 2018 in Bengaluru to commemorate the 77th Birth Anniversary of its Founder Karma Yogi, Shri Ghewar Chand Surana. Sri. G.C. Surana promoted excellence in academics through affordable & quality education for over 25 years by providing education from Nursery to Research Levels. Surana College, (est. 1995) under GDA Foundation Trust is permanently affiliated to Bangalore University and enjoys the status of section 2(f) & 12(b) of the University Grants Commission. The institution is accredited with 'A' grade by NAAC and IAO.
The Conclave will bring together some of the finest teaching fraternity, outstanding academicians and Research Scholars. There will be panel discussions on current issues facing Higher Education Institutions and an Award Ceremony for honoring those who have contributed significantly to the higher education sectors.
Award Categories
G.C. Surana Distinguished Chair Award
Best Administrative Award
Transformational Leadership Award
Best Innovative Curriculum Award
Life Time Achievement Award
Young Achievers Award
Outstanding Research Award
Entrepreneurial Philanthropist Award
Innovative Teaching Award
Novel Initiative in Trans-disciplinary studies
Novel Initiative in Cross-disciplinary studies
Novel Initiative in Inter-disciplinary studies
Feat for Conservation & Protection of Traditional Knowledge
Best Practice in Quality Assurance
Rural Educationist award
Egalitarian Award – Exceptional Endeavour
Teach with a Difference to differently abled
To nominate or register at the GCS Conclave 2018, please visit website http://seiawards.in/nominate.php.
Sri. Dilip Surana, Chairman of Surana Educational Institutions says "TLA conclave 2018 is an attempt to recognize and pay our respects to the teachers who have dedicated their service to transform students into good citizens. Today's degrees have become certificate based education and we consider them as educated/graduates on the basis of University certificates. Need based, innovative Knowledge are required to build "Nav Bharath" which has not been addressed yet. TLA conclave 2018 is an attempt to recognize and pay our respect to the teachers also dedicated their service to transform students in to good Citizens and be supportive to the modern education system".
Smt. Archana Surana, Managing Trustee says "The Summit is aptly titled "Transformational Leadership – Educators for Education". This initiative is to provide a platform for sharing ideas & exchanging opinions by experts in the field of education and industry to transform EDUCATORS INTO LEADERS.The greatest need of the day is to spread knowledge and provide education to masses. The challenge before us is to reach to the nook & corner of the nation and provide affordable education.It is our humble effort to recognize our teachers who have contributed to the society in different dimensions to mould the character and careers of our precious students. In this context, the TLA conclave 2018 is organized to honor deserving Educationists as we commemorate the 77th Birth Anniversary of our founder Sri G C Surana. On this auspicious occasion I wish you all the best".