Indian Affairs Fashion Designer of the Decade 2016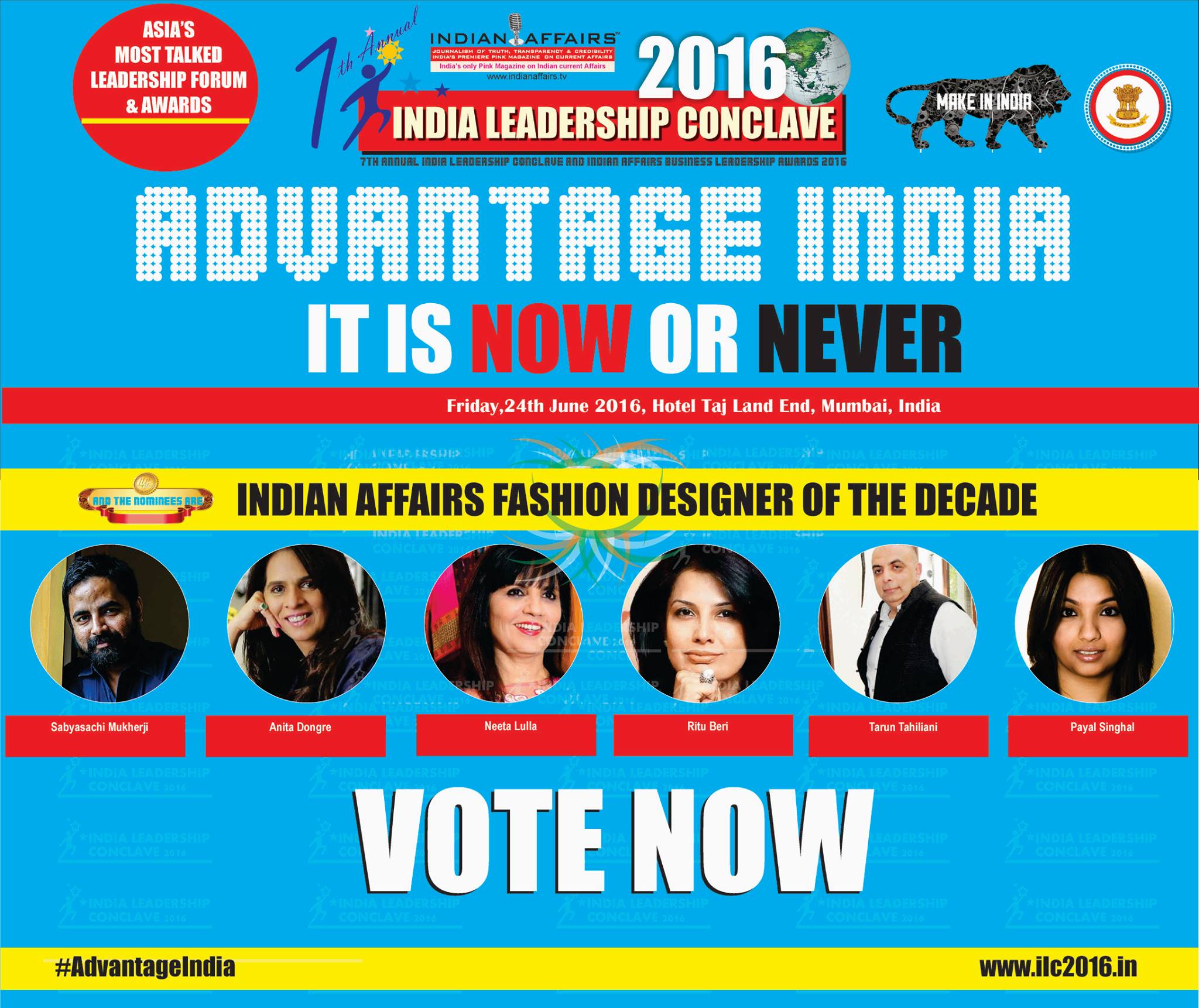 India Leadership Conclave is looking for  a innovative Fashion Designer who has transformed the styles of fashion designing. Fashion Designing today both in india & the world is buzzing with latest collections & indeed has evolved over the period of times. At Network 7 Media Group's jury process, we dont look at celebrity names or big career but we are only looking to crown someone out of the six finalists a trendsetter, someone who is widely respected & a role model for many aspiring young designers. Celebrities shape and influence fashion trends. Famous people have always shaped fashion trends throughout history and this is still true today. What is fashion? Fashion is just wearing what is considered popular or hip. Why are certain things considered hip or popular? It is usually because famous people or celebrities have been seen wearing these things. So, celebrities not only influence fashion. I would say that they create fashion too. Celebrities are often our inspiration for what to wear. Most Americans and Canadians select dress based on current fashion trends. Those selections are influenced by the place of the individual in a particular demographic and/or social group. Choices are influenced by messages about dress in films, television, music, sports, work, leisure activities, and religious practice. Demographics and membership in particular social groups are related to participation in fashion, but other aspects of the culture also play a role. One of the major sources of fashion information for young people is the music world. With the huge popularity of the Beatles in the 1960s, mod style and longer hair for boys and men soon followed. Adolescents copied the styles of their favorite performers. From its beginnings cinema has influenced fashions. The annual Academy Awards serve as a showcase for top fashion designers, who lend dresses to prominent stars in return for the publicity they gain when the event is televised. Both television and the Internet have had a function in the genesis of new fashions. They provide fashion-conscious consumers with information and advice as to what fashion trends to follow, or what is being worn by media stars. They also provide sites for purchase of fashionable goods. As a result the electronic media play a major part in encouraging consumers to participate in current fashion trends.
Indian Affairs Fashion Designer of the Decade 2016 
Indian Affairs Fashion Designer of the Decade
Sabyasachi Mukherji. (Code 121)

Anita Dongre. (Code 122)

Neeta Lulla. (Code 123)

Ritu Beri. (Code 124)

Tarun Tahiliani. (Code 125)

Payal Singhal (Code 126)
About Network 7 Media Group
Network 7 Media Group is the flagship media of SB Brand Network& is a new age digital media company based in India. In an era where world's biggest personalities & brands are heavily focused on building the image through digital media world, Network 7 Media Group is an attempt by a group of passionate & crazy professionals. Since its inception, the initiatives of Network 7 Media Group has always been out of the blues, unconventional & path-breaking. We believe that unless we are charged & not given a electric shock in our mission to achieve something new, we don't feel like taking up the assignments as we believe that uniqueness in the product & original in its concept are the twin mantras that drive us, while we may be mocked & often criticized by  others of being 'risky & unthinkable', only to prove them wrong once we finish the assignment in style & perfection with success. We are often leveled by our critics of being 'unimaginable mindset'& 'unconventional player'. We take these criticism as compliments & feel proud to break the laws to create a new innovation & ideas that are trendsetting. We attempt to create a new mindset of thought process. We convert ideas into actions, challenges into opportunities & dreams to realities. Network 7 Media Group has given birth to some of the excellent media properties in the form of a news media & are widely acclaimed for its independent & unbiased journalism. We have been in the limelight for bringing a change in approach, attitude & a new way of looking. We dont follow a fixed set of rules, regulations, rather we innovate our thinking to experiment with the truth often neglected by the established players. We are fearless, strong & independent.
PLEASE VISIT THE SITE FOR INFO
India Leadership Conclave popularly known as "ILC Power Brands" are Asia's most prestigious & credible  recognition for those that have excelled in their respective industry. With more than 15 years of experience in conducing & executing world-class awards programs with the use of state of art technologies & research  has indeed gone from strength to strength distinguishing best in class organizations. The set of prestigious & coveted awards are from asia's most definitive & credible news media in mainstream journalism  is from the organisers of  Network 7 Media Group, the flagship media company of Indian Affairs's Annual Event, asia's most analytical news media is now celebrating its 7th successful & glorious years of achievement. Built upon a stringent methodology that is combined with a rigorous approach in selecting the best institutions operating within asia, the awards are adjudicated by an eminent panel of jury members who collectively have several decades' worth of evaluating industry awards in asia using the powerful research public voting mechanism.
VOTING PROCESS
How You can Vote :
Via Online at www.ilc2016.in

Via Email – Type Your Code & Mail it to myvote@ilc2016.in ( Example if your code is XX, than type XX to ilc2016.in

Via SMS – Type Your Code & send it to ++ 91 8088054322 ( Example if your code is XX, than type XX & send it to ++ 91 8088054322. This is a standard Indian Number & only standard sms charges will apply & those who has free SMS on the plan, no cost will involve. There are no premium charges. Only one SMS will be accepted at one vote & one category & repeated smses from one number will not be counted)
By Network 7 Media Group : Physical interviews will be carried out by Indian Affairs Journalists to a sample size of 2.5 Lakh voters will be conducted in 16 Cities & will be counted in final voting. Please note that only 40 % of weightage are given to SMS/EMAIL/ONLINE/PHYSICAL INTERVIEWS to gauge the mood of the nation. 60 % purely rests on merits & Jury Members decision to give the real justice & make it transparent in our quest to find the real winners as we have been doing over last five years.
---