Indian Affairs Innovative Leader in Digital Entrepreneurship ( Male)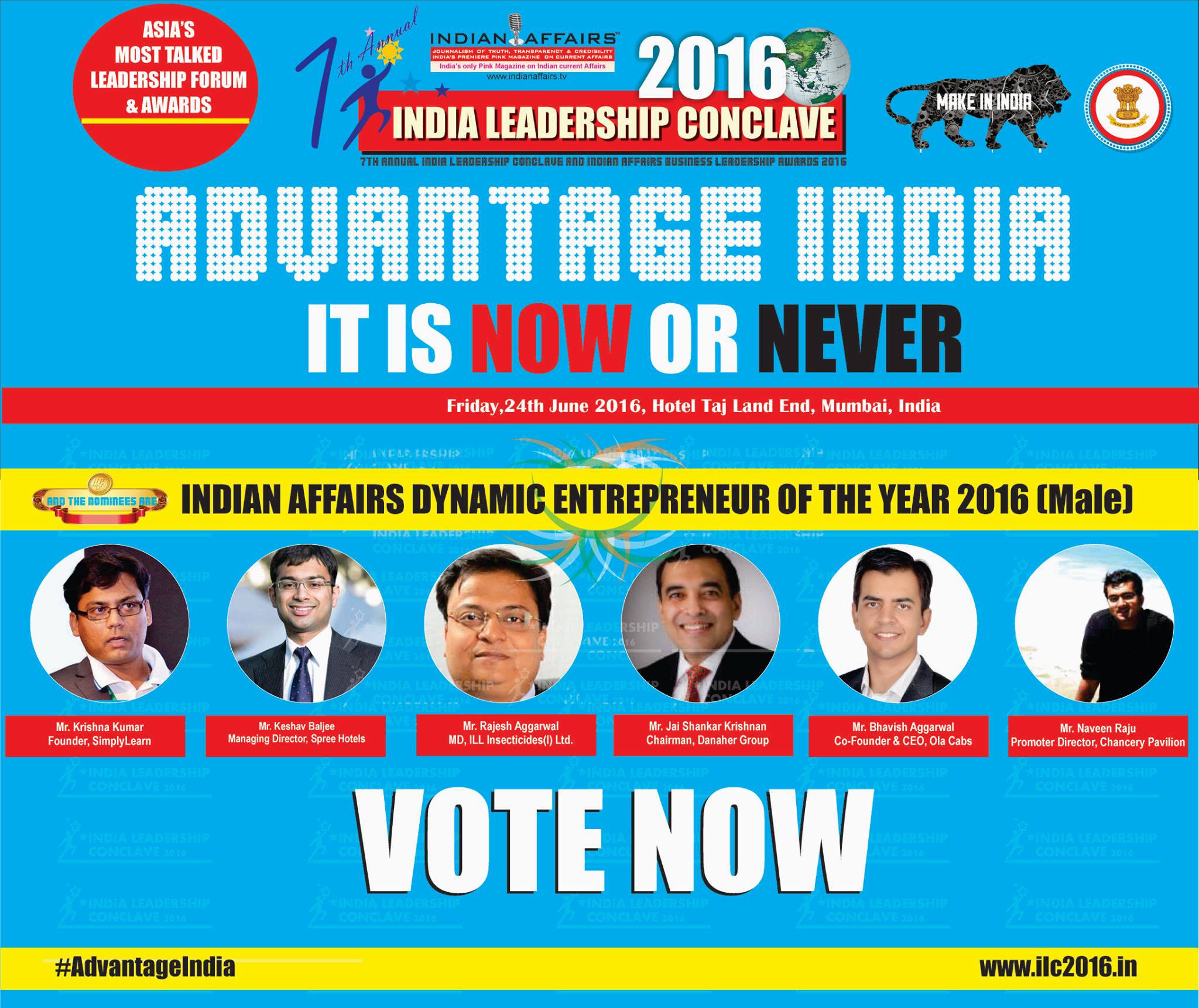 India Leadership Conclave has observed keenly the rise & rise of indian E Commerce players & specially the leadership style & approach of the enterpreneurs.India received $6.6 billion in venture capital and private equity investment in 2015, a 50% increase from the previous year, which probably contributed to a steep growth in the gross merchandise value for ecommerce companies, Indian ecommerce market to grow fastest globally over 3 years. Indian Affairs also expect Internet penetration to increase from 32% in 2015 to 59% in 2020, translating to a near-doubling of the Internet user base, It estimates India will have almost 320 million online shoppers by 2020 compared with 50 million in 2015. Recent years have seen a remarkable transformation in the way India shops and trades. E-commerce has taken the world of retail by storm and captivated the imagination of an entire generation of entrepreneurs, with e-commerce ventures with various business and commercial models. The explosive growth in the last few years has already catapulted the biggest firms among these ventures past the billion-dollar territory. E-commerce space is one of the fastest growing segments. It is also the most challenging in fulfilling its fundamental proposition of transcending physical boundaries to deliver a variety of products to the customer's doorstep. Logistics and infrastructure in e-retailing becomes the very backbone of the
fulfilment network and the basis on which stringent service level expectations are set and met, and customer mind-space among competing alternatives is won. In India, these are arguably the weakest links, and therefore the enhanced need for greater attention and management bandwidth to these critical functions.This year, for the first time, the Asia Pacific region's global retail spending—$877.61 billion—will make up 52.5% of the worldwide spending of $1670.99 billion, the first time it holds a majority of the world market, according to eMarketer. China, however, makes up most of this spending, with its 2015 sales at $672 billion, and forecast to grow to $1,568.39 billion by 2018. Online retail now accounts for 0.8% of all retail sales in India, compared with a global average of 6.3%, and e-Marketer forecasts this would grow to 4.8% by 2019, when it is projected to be 12.8% globally. India has seen the fastest growth in the retail e-commerce section among the Asia-Pacific countries, growing 133.8% in 2014 and 129.5% in 2015. eMarketer also forecasts that this growth will stabilize to 23.9% in 2019, compared with an Asia-Pacific projected average growth of 23.5%.
Indian Affairs Innovative Leader in Digital Entrepreneurship ( Male)
1.Mr.Manu Agarwal, Founder and CEO,  Naaptol.com. (Code 79)
2.Mr.Deep Kalra, Chairman & Group CEO, MakeMyTrip . (Code 80)
3.Mr.Praveen Sinha, Founder and Managing Director,  Jabong. (Code 81)
4.Mr.Ambareesh Murty, Founder, Pepperfry. (Code 82)
5.Mr.Ashish Goel,Founder CEO, Urban Ladder. (Code 83)
6.Mr. Sandeep Agarwal, Founder,ShopClues & Droom. (Code 84)