Workers of the Bharatiya Janata Party (BJP) on Saturday morning indulged in vandalism at the official residence of Chief Minister Naveen Patnaik's Private Secretary IAS officer V Kathikeyan Pandian here that evoked denouncement from all quarters.
The BJP activists' act was universally condemned as they, in a first-of-its-kind incident, made a bureaucrat their target for all their perceived problems for which the Chief Minister may be responsible.
About 40 to 50 BJP activists stormed into the residence of Pandian in the morning alleging that he is working for the ruling Biju Janata Dal (BJD). The saffron party activists waiving BJP flags overpowered the security staffs at the gate and smashed flower pots, damaged a few vehicles parked at the premises. The protestors also pelted stones and cow dung at the main gate. Pandian was absent in the house.
A scuffle ensued between the BJP workers and policemen while the former were trying to enter inside the house. Four of the attackers were arrested, police sources said.
On being informed, Twin City Police Commissioner YB Khurania and DCP Satyabrata Bhoi rushed to the spot.
"The Commissionerate police are taking the matter very seriously. Strong action will be taken against those involved in the act. It is very unfortunate that a public servant has been made target of attack." Khurania said.
Condemning the BJP workers' act of hooliganism, BJD spokesperson Pratap Keshari Deb said, "The incident exposes the mentality of top BJP leaders. Such kinds of protests are unacceptable in a democracy. Police should take strong action against those involved in the incident."
Deb said the BJP is indulging in such violence in the State with an intention to delay or postpone the scheduled February 24 Bijepur Assembly by-election as the party fears to lose poll battle. The attackers of Pandian's house told the security staff there that they have been sent by Union Minister Dharmendra Pradhan.
Deb said that Pandian is an officer of impeccable integrity.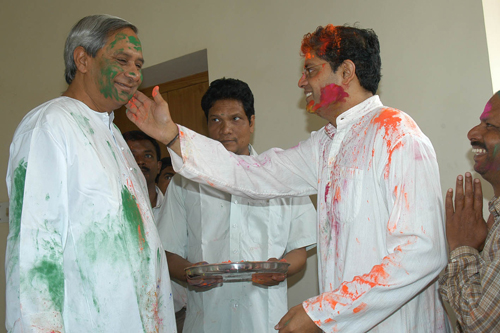 The IAS Officers' Association, Odisha strongly denounced the attack on the residence of one of its members. Association secretary Vishal Dev urged for strong action against the culprits.
The Odisha Administrative Service (OAS) Association and the Odisha Information Service (OIS) Association also condemned the incident and demanded severe action against the vandals.
Leader of Opposition in the State Assembly and Congress leader Narasingha Mishra too condemned the attack on the senior bureaucrat and said the BJP is promoting hooliganism.
CPI State assistant secretary Ashis Kanungo also denounced the BJP workers' violence and demanded stringent action against them.
Samajwadi Party State president Rabi Behera, in a letter to DG of Police RP Sharma, demanded that the BJP attackers be booked under the National Security Act (NSA).
On the other hand, BJP State vice-president Sameer Mohanty defending his party workers' act said, "Pandian is acting like a 'super Chief Minister'. His favouritism towards the BJD is not acceptable. The protest against him has intensified."