Thought Leaders, policy experts, business tycoons to debate on "Advantage India" at India Leadership Conclave 2016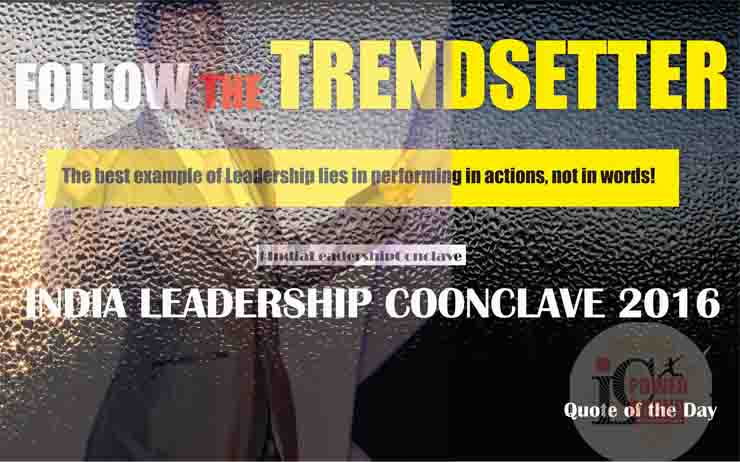 Thought Leaders, policy experts, business tycoons to debate on "Advantage India" at India Leadership Conclave 2016
India Leadership Conclave 2016 aims to catalyze new debates and discussions, throw up creative ideas and discover pathways that will hopefully shape the progress of not just India and Asia but of all who are invested in and engaged with Asia and with India. For some time now, as the Indian growth story gained momentum, the absence of a truly global platform was missing. The 7th edition of Network 7 Media Group's India Leadership Conclave & Indian Affairs Business Leadership Awards 2016 therefore will supply  the much needed oxygen  for bringing into these conversations a uniquely Indian dimension that could help locate these within an Indian paradigm and with an Asian ethos. The objective of the conclave is not only to filter the diverse ideas & bring out the best but to scan the progress of growth, developments & decay. World today is much more complicated than it was in the last two decades as terrorism have hindered the process of peace & prosperity & more & more intolerant voices are emerging to challenge the establishment, it is in this context India Leadership Conclave will be debating on the advantages of india of being the right time to accelerate the reforms process & grow.  More than 300 iconic leaders, Policy Makers, Rebel Leaders & Social Entrepreneurs are expected to attend the iconic Conclave on 24th June in Mumbai where the major thrust is given on the booming start up india which is making noise both in the country & abroad said Satya Brahma, Chairman & Editor-In-Chief of Network 7 Media Group.
Leadership Styles are crucial in governing! #AdvantageIndia #IndiaLeadershipConclave2016 #Ilc2016 #IlcPowerBrand pic.twitter.com/cdOAj4NiqG

— Indian Affairs (@Indian_Affairs) March 29, 2016
Announcing the theme of the 7th annual editions of the India Leadership Conclave, Satya Brahma, Founder Chairman of the India Leadership Conclave stated that "India's population in next decade will be somewhere at 1.5 billion people. By 2030, China will likely be the world's largest economy by purchasing-power parity, with the United States second and India third. And, Yet the size of India's middle class is expected to surpass that of both the United States and China, due to its fast-growing population. In 2030, India alone will account for 23 percent of middle-class spending globally (nearly $13 trillion a year!). Therefore "Advantage India: It is now or Never!" is the right dose for the current scenario at a time when india is being hailed worldwide as the most preferred place to invest & do business with.
India to the world today is a big hope & to the investors & companies a place to invest & do business despite many detriments in domestic grounds, be it slow progress of systemic reforms & excessive engagements with politics & political issues. While the external environments are still hostile outside the country, India continues to perform better & remain the favorites for the west. Let's not also forget, India today is on the threshold of economic progress & many hail india's journey today as the beginning of economic progress & prosperity. So certainly it is Advantage India: It is now or Never!
The ability of this huge and poor nation to sustain a lively democracy has been among the world's political wonders. Yet its economic performance has fallen short of what it might have been. Despite improvements in policy and performance since the crisis of 1991, this remains the case.When the government came to power, the economy was suffering from rapid consumer price inflation and sizeable fiscal deficits. Helped by falling oil prices, the former is down from above 10 per cent in 2013 to below 6 per cent. The central government's fiscal deficit is forecast to fall from 4.5 per cent of gross domestic product in 2013–14 (April to March) to 3.5 per cent next year. The economy grew only 5.3 per cent in 2012–13. This is forecast to reach 7.5 per cent in 2015–16. The Ministry of Finance's latest Economic Survey forecasts growth at between 7 per cent and 7.75 per cent next year, albeit with downside risks. This would not be stellar by India's standards. But it would be stellar by those of the world.India is poised for a turnaround,. If we look, the twin deficits are under control, inflation is under control, we have reasons to believe that we would think that growing at 7.5 per cent with aspiration for 8.5 .One of the challenges the government is facing is in securing investment as Public Sector Banks and private sector banks grapple with the problem of weak balance sheets and dealing with bad loans. The economic outlook in India remains the strongest in the world at 86% expecting economic expansion compared to United States (73%), Canada (63%), Mexico (79%), Argentina (73%), United Kingdom (75%), China (58%), Singapore (60%) and Australia (64%) 100 per cent of respondents in India expect their companies to increase total spending and investment with 80% expect increase of 10% or more against global average of 87% and 49% respectively The global average increase in spending and investment levels has risen to 12%, compared to last year's 11% – India leading with 18% followed by Mexico (16%) and the US (14%) Security of business (47%) and growth opportunities (43%) are clear priorities for obtaining funding for India finance leaders like their global peers for optimizing cash flow Indian executives are most confident on growth plans when compared with their international peers.  The 2016 American Express/CFO Research Global Business and Spending Monitor, an annual survey of global finance Leaders, found that 86% of Indian respondents are expecting the economy to grow next year. Additionally, 90% of Indian executives polled say company's growth will depend more on exports over the next year as compared to the previous year.It is noteworthy that India is leading the way in terms of both business confidence and investments. As expected, owing to the prevailing uncertain economic environment globally, most companies are cautious about spending and investments. The focus is on optimizing cash flow and using it judiciously to grow and protect the business. Broadly, the game plan seems to be focused on reducing the risk exposure by focusing more on domestic markets, along with increased investment in sales and marketing activities, risk management and security, and adding capacity for production or service delivery. Corporations worldwide see technology as an important aspect for their businesses, thereby spending on information security is among their top priorities.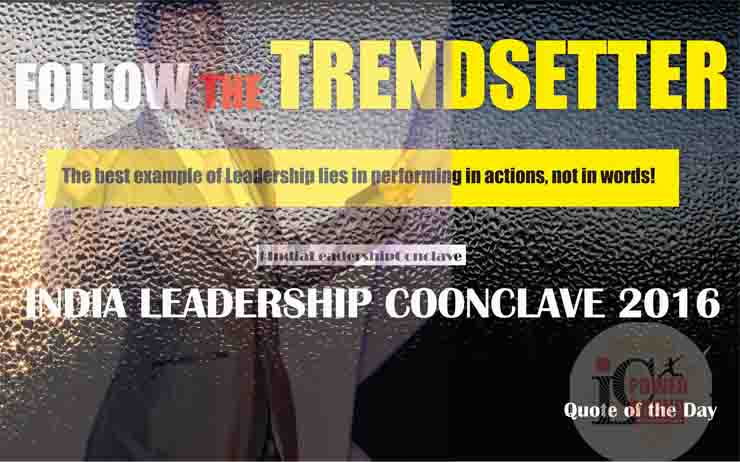 ………………………………………………………………………………………
 The Big Conclave Overview
The much awaited & Asia's biggest meeting point for thought leadership conclave organized by Network 7 Media Group's initiative from the nation's most widely acclaimed news media India Affairs will host its 7th edition under the theme "Advantage India" at the  7th Annual India Leadership Conclave & Indian Affairs Business Leadership Awards 2016 in Mumbai, India on Friday, the 24st June 2016 where top leaders from the various sections of the society will assemble to make an analysis of India's journey from independence & the important milestones that the country has achieved since last 58 years & the areas where India has remained silent & unmoved & has given a big miss. Currently in its 7th year since the last six successful editions held annually uninterruptedly in key states of the country where the platform evoked great degree of interest & made headlines, the Conclave will be debated & discussed by the speakers of eminence from the world leaders, industry icons, Politicians, movie stars, rebels, peacemakers and social activists. The Grand Annual Affair of Indian Affairs Conclave has been a sold out event & attendance from over 350 delegates coming from india& across the globe. India Leadership Conclave & Indian Affairs Business Leadership Awards 2016 is also keenly aawaited platform for its power brand awards called ILC Power Brands. From business to politics, cinema to sports & public service to social service, ILC Power Brand Awards are the most coveted prestigious & credible awards by an eminent panel of jury members, conferred to top leaders of the country. Iconic leaders like Ratan Tata, Mukesh Ambani, late former prime minister Rajiv Gandhi, Arvind Kejriwal, Priyanka Chopra, Kiran Mazumdarshaw, Narayan Murthy are few of the names who are the recipients of the awards in various categories.