Inspiring Youth icon Sushmita Sen bags the prestigious "Eternal Beauty & Actress of the Decade" at India Leadership Conclave 2016

Bollywood actress Sushmita Sen recognized for her exceptional works in indian motion picture &  trendsetter as an inspiring youth icon, a role model for the aspiring beauty queens at 7th Annual Indian Affairs India Leadership Conclave 2016
Sushmita Sen, the top Indian bollywood actress & an inspiration to today's modern women, Sushmita Sen was the first Indian Women to win the 'Miss Universe' title in 1994 and known as an actress who speaks her mind and is not afraid to live life on her own terms, entertained the world with the hit pictures such as  Sirf Tum and Biwi No 1, was recognised at the Indian Affairs ILC Power Brand Awards 2016 at the 7th Annual edition of India Leadership Conclave 2016 as "Eternal Beauty & Actress of the Decade". Widely perceived by the thought leaders of the country as the ultimate & credible destination of leadership awards, the recognition of Sushmita Sen ranks the gorgeous & the former beauty queen Sushmita Sen in top achivier & brings yet another feather in the cap in her career as the actress posted the picture of the award trophy in the social media Twitter of being selected & awarded for the top honor.
https://twitter.com/thesushmitasen/status/755491375781675009
Announcing the name for the prestigious award, Satya Brahma, Chairman & Editor-In-Chief of Indian Affairs, said "Sushmita has made us proud not only as a Peace Ambassador of India but to the world, someone who brought India the much desired glory & fame when she was crowned the Miss Universe & sent a strong signal to the world. It is therefore, no exaggeration to say that, It was Sushmita who became the symbol of peace & a vibrant & strong voice to dominant issues that the country & the world are facing. She made history and has been a part of that historic phase when the inspirational youth icon & beautiful actress Sushmita Sen became mesmerized the audiance with her grace, peace & humanity. Again, Sushmita made history by adopting a baby girl named Renee in 2000 at the age of 25 & in 2010 she adopted a three-month-old girl and named her Alisah, something which is rare in today's society. To me, she is the ultimate woman.The recognition signifies the remarkable accomplishments of Sushmita as an actress who defied all odds & became the darling of the nation".
The past recipients of the award in the Bollywood segments includes Priyanka Chopra, Rani Mukerji, Anushka Sharma, Shraddha Kapoor, Film maker late Yash Chopra. The 2016 list also saw names of Super Star Govinda, Karishma kapoor, Sanjay Leela Bhansali, Tina Ahuja, Fashion Designers Neeta Lulla & Namrata Joshipura, Jewellery designer Poonam Soni.
https://www.youtube.com/watch?v=9z-VeQRnJjI
---
Sushmita was born in the Bengali-speaking Sen family on November 19, 1975 in Hyderabad, Andhra Pradesh, India. Her family consists of her dad, Shubeer, a former Indian Air Force Wing Commander; mom, Subhra, Jewelry Designer and owner of a Dubai-based store. She has two siblings, a sister named Neelam, who is married to Nauman Malik, and a brother named Rajeev. Subhra's dad was a poet. She attended different schools in Jorhat, and Nagpur, but spend the majority of her schooling days in the Air Force Golden Jubilee Institute and Air Force Silver School in Delhi. She was regarded as a tomboy and spent most of her times with boys. Since the schools were Hindi medium, she could not speak English until she was 16 years of age. She subsequently not only mastered English, but became an English Honors student, and also obtained a degree in Journalism. Due to her place of birth she can speak Urdu flawlessly. Her first public appearance was at the Air Force Club Contest at the age of 15. She did a few fashion shows thereafter. Then during 1994 she decided to be a participant in Miss India beauty pageant, fully aware that she was being pitted against the reigning favorite, Aishwarya Rai. Sushmita took everyone by surprise when she was crowned Miss India while Aishwarya had to content with being the First Runner-up. Both beauties went on to win Miss Universe and Miss World titles respectively. Ironically the final outfit for Miss Universe for Sushmita was made by a little-known Meena Bazar tailor, and her mom.
Sushmita's stunning win was an inspiration for other beauty queen aspirants. Soon after her win, India witnessed a sudden rise in beauty pageant winners; the green-eyed beauty Aishwarya Rai won the Miss World contest, followed by the likes of Diana Hayden (Miss World 1997), Yukta Mookhey (Miss World 1999), Lara Dutta (Miss Universe 2000), and Priyanka Chopra (Miss World 2000). As for Sen, immediately post her phenomenal win, a career in Bollywood beckoned this leggy star. She debuted on the big screen, in 1996, with the filmDastak. Although the film did not create ripples at the Box office, but Sushmita had made her presence felt.However, it was in the year 1999, in David Dhawan's Biwi No 1, when she got a chance to act opposite Salman Khan, that Sen got noticed; she made the audience dance to the foot tapping number, Chunari Chunari. Sen's height gave her impressive screen presence, which added to her beauty, and attractive personality. Her role in the film won her the Filmfare Best Supporting Actress award. Post Biwi No 1, a lull in her film career followed, with a series of films not faring too well.  A sizzling cameo song appearance in Fiza, with the popular Mehboob Mere somewhat kept her in the reckoning.But, then came the year 2004, when her career got a much-needed lease on life, with Farah Khan's directorial venture,Main Hoon Na, opposite superstar Shah Rukh Khan. The film was a blockbuster at the box office, and still remainsSushmita Sen's biggest hit.Playing the role of a chemistry teacher, Sushmita did full justice to her character. The 5 feet 7 inches tall, leggy lady, with her svelte figure, had the nation swooning with her sensuous dance moves in the chartbuster, Tumhe Jo Maine Dekha, along with co-star SRK. The chemistry between the duo was crackling. No wonder then, that the success of the film was inevitable.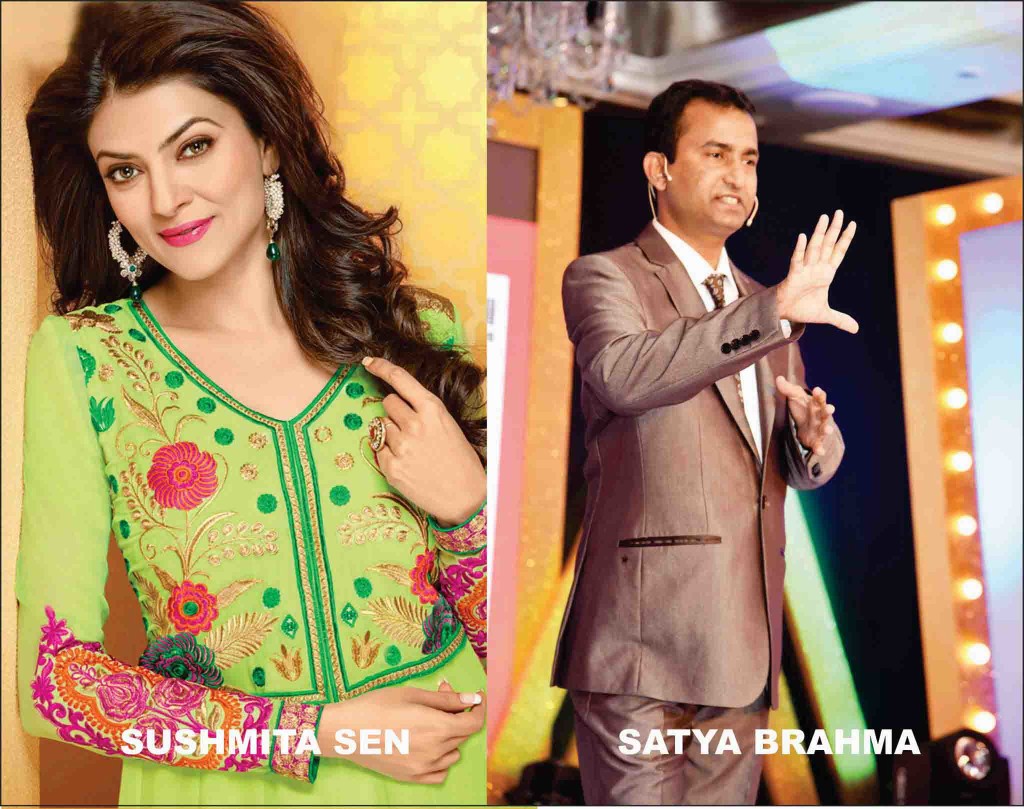 #AdvantageIndia
#IndiaLeadershipConclave2016
#Ilc2016
#IlcPowerBrand
#July1stWithSatyaBrahma