Gorgeous Actress & Bollywood Diva Tina Ahuja to receive "Emerging Talent & Debut Actress of Indian Cinema 2016" at ILC Power Brand Award 2016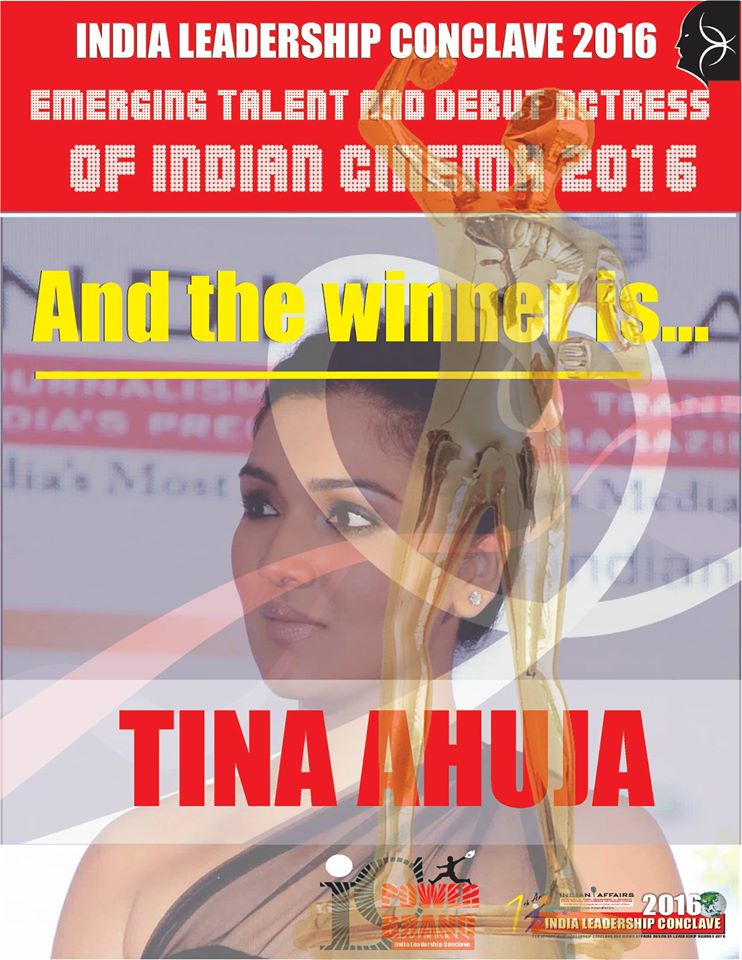 Gorgeous Actress & Bollywood Diva Tina Ahuja to receive "Emerging Talent & Debut Actress of Indian Cinema 2016" at ILC Power Brand Award 2016
Bollywood's promising actress Tina Ahuja who is set to have few memorable releases in hindi cinema in the year 2016 & 2017 has caught the attention of the prominent jury members at Network 7 Media Group's historic annual award currently in its 7th year to be held in mumbai on friday,1st july 2016. Tina was last seen in the movie Second Hand Husband. If sources are to be believed, Tina is in advanced talks with top directors for lead roles in epic movies. Announcing the names of the winners, Satya Brahma, the founder of India Leadership Conclave said "at India Leadership Conclave's dialogue & award forum, "our attempt & objective is to discuss the complex issues in minute details & yes we have been phenomenally successful not only because we have been able to again raise the bar for our industry peers in terms of top-notch participation & execution for which ILC Power Brands are known for, but also because we have been able to create outstanding content, debates & first opinions for our participants. These winners reflect our deep commitment to promote innovations & creativity & are meant to motivate & encourage to create more landmarks in near future".
Thank you !! @Indian_Affairs https://t.co/ROgoaQahX0

— Tina Ahuja (@TinaAhuja16) June 10, 2016
 Priyanka Chopra, Anushka Sharma, Shraddha Kapoor, Ragini Dwivedi were the past recipients of the coveted recognitions. Other individual award winners include, Actor of the Decade ( Male)- Govinda, Actress of the Decade ( Female)- Karishma Kapoor, Film Maker of The Decade – Sanjay Leela Bhansali, Social Enterprise of the Year 2016 – Fulora Foundation,Indian Affairs India's Most Promising Yoga & Nutritionist Expert 2016 – Eefa Sharof, Indian Affairs millennium business leader in homeopathy medicine 2016 – Dr. Mukesh Batra, Chairman, Dr. Batras, Peace Leader of the year  2016 – Dr. Huzaifa Khorakiwala, CEO, Wockhardt Foundation & Executive Director, Wockhardt Ltd, Mr. Dilip Surana, CMD Microlabs Limited for global indian of the year & Shilpa Shetty & Kiran Bawa led IOSIS for "Indian Affairs Most Promising Company in Wellness & Spa Innovation 2016"
Tina Ahuja was born as Narmada and later changed it to Narmmadaa owing to the numerological reasons in a pretigious family of B Town. Yes she is the daughter of known Bollywood actor called Govinda. She was born on 16th July 1989 in Bombay to Govinda and his wife Sunita Ahuja. After her schooling, she did a basic fashion designing course in Bombay and later did her acting course from the known Kishore Namit Kapoor Insitute in her hometown. She then headed to the UK to finish another course in acting in the London Film Insitute and returned to start her career in Bollywood films.Being a star kid, she had a good launch pad from her father and his friend Salman Khan to enter in the industry. She was first appeared before the media with Salman Khan at the popular IIFA Awards Red Carpet in the year 2007. She was planned to be lauched by Salman Khan in his film Dabangg, but things failed she couldnt manage to get the role. Later, she was supposed to work in another film from Lovely Singh in opposite the boxer Vijender Singh and the director was supposed to incorporate her father and Salman Khan in the said romantic comedy, however, things didnt work and finally she is seen in another film called Second Hand Husband.
Tina Ahuja who made her Hindi film debut with the romcom 'Second Hand Husband' alongside Gippy Grewal & Dharmendra was awarded 'Emerging Actress of the Year' at the India Leadership Conclave Awards 2015. Acting prowess and promising career were two important criteria for this award that was selected on the basis of voting by an eminent jury.