It looks like thee are no relief for those who were arrested in the infamous Odisha chit fund scam. After few high profile politicians, Businessman, now the heat is on to the some of the prominent ministers of the Naveen Patnaik government. Sources close to Odisha Affairs reveal that the the CBI is tightening its noose & preparing grounds based on concrete evidence to arrest top ministers believed to be involved. Some of the ministers are even questioned for their role after the confession from those who are arrested.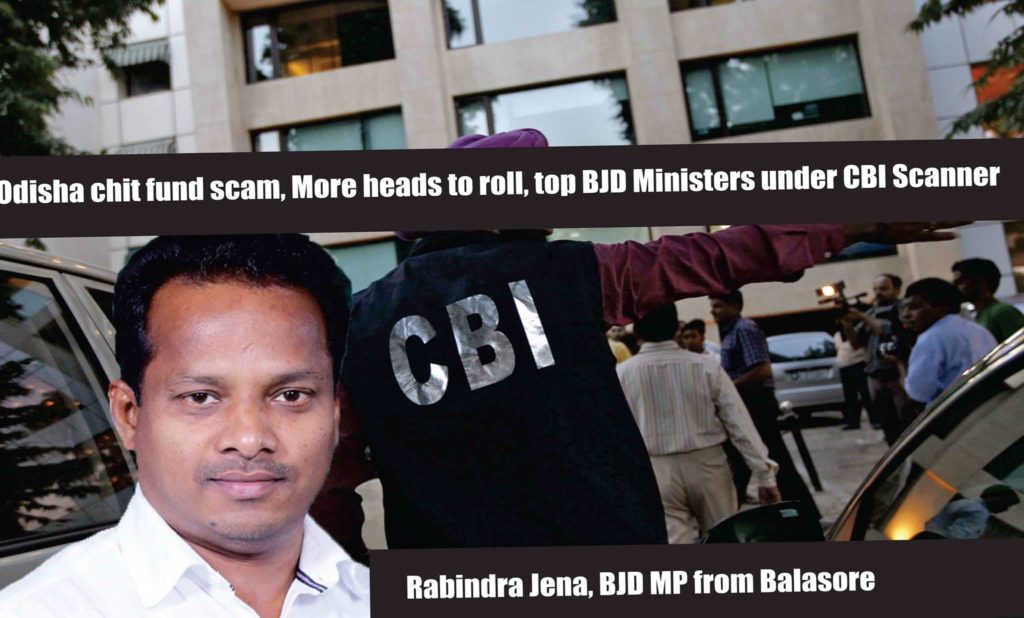 Odisha chit fund scam, More heads to roll, top BJD Ministers under CBI Scanner
In one of its major raid exercises, the Central Bureau of Investigation last week conducted raids at 25 places in Odisha in connection with the Seashore Group chit fund scam.The raids, among other places, were conducted at the residence and offices of BJD Lok Sabha member Rabindra Jena located in his constituency Balasore and Odisha capital Bhubaneswar.The central investigating agency also conducted raids at the residences of Odisha Chief Minister and BJD President Naveen Patnaik's ex-employee Saroj Sahoo and BJD MLA from Choudwar, Pravat Ranjan Biswal.Sources said, the CBI suspects that through Saroj Sahoo and Pravat Biswal, the Seashore Group managed to cultivate top bosses in the state administration and succeeded in spreading its business empire across Odisha.Seashore Group has allegedly robbed over Rs 1700 crore rupees from over 1.5 lakh small depositors in Odisha.The raids have come as major setback for the ruling BJD ahead of the panchayat polls scheduled to be held in February.
Any findings of incriminating papers or documents from Saroj Sahoo would expectedly create trouble in the BJD as he was the key man in Naveen Niwas, the residence of Odisha Chief Minister Naveen Patnaik and he played a crucial role in all Assembly and Lok Sabha elections held since 2000.It is also said that Naveen Patnaik heavily relied on Saroj for his political and personal affairs.Saroj was shunted out of Naveen Niwas in 2014 after he was grilled by the CBI in connection with the chit fund scam.Two of the senior BJD leaders – Mayurbhanj Lok Sabha members Ramachandra Hansda and Subarna Naik – are currently in jail in chit fund case. Pravat Tripathy, the BJD MLA from Banki in Cuttack district, was earlier arrested by the CBI. He is, however, now out on bail.Sources informed that a senior Odisha minister and a few other BJD MLAs are also in the CBI scanner and the agency might grill them at any moment.The CBI had earlier questioned MP Rabindra Jena, MLA Pravat Biswal and Saroj Sahoo.The director of as many as 15 ventures of the Seashore group, Pravat Dash, the brother of group chief Prashant Dash, was arrested Saturday for his alleged link to the chit fund scam in Odisha.The Central Bureau of Investigation (CBI) arrested Pravat Dash after questioning him Saturday morning.He is accused of embezzling about Rs.3 crore which was transferred to his account from Seashore. He is the director of Seashore Securities Ltd which had collected money from investors in the state assuring them of high returns.Pravat Dash, however, pleaded his innocence in the matter. "I don`t have any involvement in the misappropriations," Pravat told media after his arrest.His counsel Bijay Kumar Kar said his client has been granted anticipatory bail in several cases and the arrest is not proper.The investigating officer said that he was arrested in a fresh case. Some funds were transferred to his account regarding a land deal at Angul for which payments were done through cash as well as cheque, said Kar.Seashore CMD Prashant Das is in jail for duping thousands of people in the state. The CBI is inquiring into the multi-crore chit fund scam and several politicians are being investigated for their alleged involvement in the scam.
Odisha chit fund scam, More heads to roll, top BJD Ministers under CBI Scanner. pic.twitter.com/zlfXDcuuBU

— ODISHAAFFAIRSTV (@ODISHAAFFAIRS) January 19, 2017